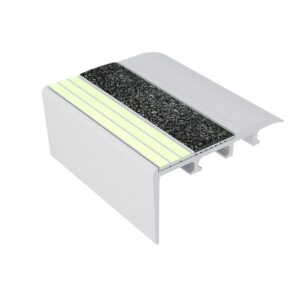 Our mission at Ecoglo Inc. is to manufacture and distribute durable photoluminescent products which create a safe and efficient pedestrian environment providing all people the ability to navigate egress safely and efficiently in all emergency type environments. By fulfilling the needs of municipalities, facility owners, architects, engineers and general contractors to meet IBC/ IFC / NFPA photo luminescent requirements, our product improves the quality of the building infrastructure and ensures a safe passage from public and private facilities. Ecoglo Inc. strives to provide building products that not only create a safer environment but also meet the demand for cost effective and long term solutions.
Ecoglo uses a patented process to produce a range of products that provide a complete solution to pathfinding requirements:
step edge contrast
slip-resistance
visibility in all light conditions
engineered for durabilityROUGH


The hard wearing silicon carbide non-slip material is just what you need to reduce slips and falls in all weather conditions. Your patrons will commend you, not complain to you. With their UV resistance and good looks, you can confidently install Ecoglo products inside and out.

 http://www.aloha-marketing.com/construction

TOUGH

Our patented process bakes in the photoluminescent powder and non-slip material and you get to savor the results. Thousands of people can walk on these products thousands of times with no wear and tear. And just to make sure, we've put them through extensive testing at internationally accredited laboratories relating to durability, weather resistance, UV resistance, stain resistance, abrasion and cleaning. And they passed with ying colors.

SEEN

Unlike electrical or battery lighting, Ecoglo products will never let you down. They will glow brightly in the dark for many hours giving your patrons con dence in exiting, even in an emergency. Some steps are
just too hard to see, whether it be day or night. With Ecoglo, you can be sure your patrons will see the steps, not fall down them, whatever the light conditions. It's the combination of the photoluminescent strip and the non-slip material that creates such great step edge de nition
GREEN
Every small step you take to reduce electricity usage helps save our environment. Ecoglo products let you recycle natural sunlight or artificial light. No electricity is required. Ecoglo also goes green by using recycled aluminum. All products are non-toxic and non-radioactive. Designed to last the life of your facility, Ecoglo avoids maintenance costs. Ultimately, Ecoglo is recyclable which avoids the cost of landfill dumping.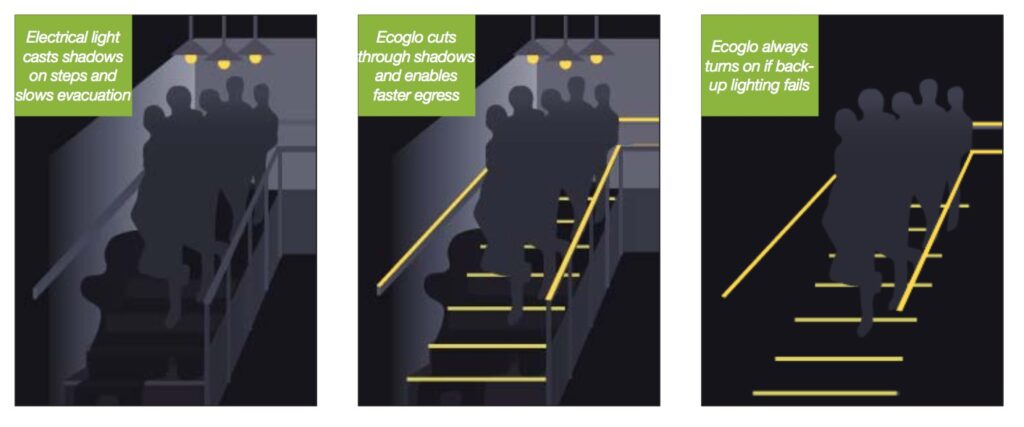 HOW TO SPECIFY ECOGLO PRODUCTS
Ecoglo provides several design file formats for its products in order to make the job of specifying easier than ever. From step edge contrasts, stair nosings, pathway marking, egress signs, and more, you now have more choices when specifying Ecoglo products for your next project.
Whether you need 2D CAD drawings, 3-part specifications, brochures, videos, installation instructions, and now BIM (Revit) objects, Ecoglo has you covered.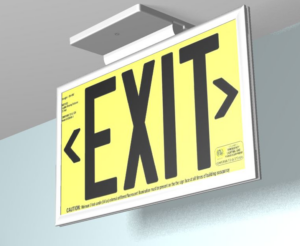 For more information click on the link to download an Ecoglo Catalogue