The following testimonials are from some of Alexander & Associate's clients.
Alexander & Associates recently worked with Deberra O'Brien on a concept piece for the renovation of the Rehabilitation Hospital of the Pacific. The image was developed by Fleet Street Graphics.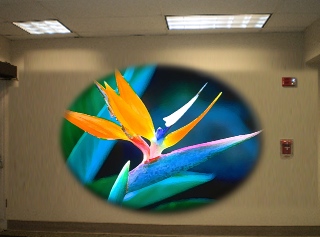 "Alex Alexander is a pleasure to work with; capable and diligent in all she does.  Her artists offer a wide variety of mediums, are quite talented, and devoted to Alex as their representative.  The product lines she represents are diverse and applicable to many architectural & interior design projects.
I have used her consulting services for over 7 years, and have been satisfied with the results each time."
Deberra O'Brien, IIDA, GR
Alexander & Associates worked with Ron Wood on the Etter Residence in Dana Point, CA for Cindi White.
"As a Hawaii interior designer I was having a challenge finding an artist to create a 25' high piece of wall art for a custom project in California.  I hired art consultant, Alex Alexander of Alexander & Associates and found her to be most responsive, creative and knowledgeable in sourcing an artist for my project.  She located the perfect artist and by communicating closely with all parties involved and following up on the details our project was a terrific success.
I would highly recommend Alex to anyone seeking a professional art consultant for their projects."
Cindi L. White of Cindi White Designs LLC, ASID
"With the renovation nearly complete, the Top of Waikiki client and I were looking for a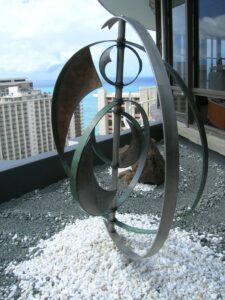 design solution for the outdoor rooftop area adjacent to the restaurant lobby.  Because it was in direct sight of the lobby, it was important that it become part of the new design concept.  After researching various options only to come up against road blocks, I turned to Alex Alexander to see if she had any potential artists who would be willing to tackle the job.  I was fortunate to meet and get to work with local artist Kim Duffet.  Not only was he willing to take on the challenge, but he took it one step further and created a beautiful rooftop rock and sculpture garden with a story line that worked with our design and incorporated a sense of Hawaii. He won over the client in the first concept presentation and the result was clean and simple, but with incredible depth.  He and Alex worked with the client to meet their budget and maintenance needs and even made alterations after the installation to make sure that all components were working properly.  I am filled with gratitude for the effort that Alex and Kim put into this project and am very happy with the final result."
Lisa-Maria Priester, LEED AP, IIDA, ASID, NCIDQ
Senior Interior Designer
TEN INTERIORS | WCIT ARCHITECTURE