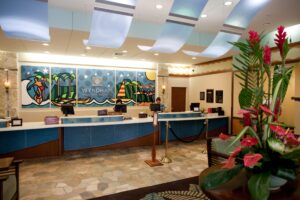 Alexander & Associates offers a range of creative support services to the architectural, interior design and decorating trades, providing fine works of art including unique paintings, sculpture, furniture, lighting, water-features, ceramics, etched and stain glass, Murals, functional works and special installations. Our resources also include fine photography, computer-generated images, limited edition prints and giclees available in small or large quantities.
While having access to many existing artworks, we specialize in commissioned pieces made to your commercial or residential specifications. The items you see on this website represent a diverse range of artistic styles and media. If you require an approach not shown, we will endeavor to find it for you.
Locations
Schools
Hotels
Cruise liners
Private residences
Parks, grounds, gardens, atriums
Corporate or private collections
Renovation or New Construction
Alex Alexander's ability to interpret technical specifications, blueprints, 3 D Cad renderings and other directions help focus project parameters. Inclusion and collaboration of artists in the design process, ensures that all creative options are exposed. A staged methodology including sketches, models, descriptions and samples allows a practical exploration of possibilities, while maintaining on time delivery of results.
Please enjoy a brief overview of our work ~
https://www.youtube.com/watch?v=god0iN_9TbY&t=2s
Projects
The following is a partial list of projects completed by Alexander and Associates. For more information please click on the links: