Starstruck is a 17 ft. monumental bronze, crescent moon sculpture with a stainless steel star cluster flashing across it's bow. This newest piece by sculptor, Kim Duffett, was unveiled on May 15, 2018 at the Mililani Town Center on Oahu.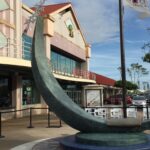 The artist writes of the inspiration for this piece:
Throughout the ages we have been enthralled by the mystery and magic of the stars. In ancient time, Hawaiian Kahuna came to this site to view the heavens because of it's elevation and openness. Today, many of the streets in the town of Mililani are named after Hoku, or stars in the night sky. It is an ageless fascination, but how do we come closer to their brightness? Hina, goddess of the Moon and so close to our planet Earth, shines in the night sky as our constant companion in the cosmos and our bridge to the universe above us. Long before it became a reality, we imagined stepping on the Moon's surface. The crescent moon has been a symbol of new beginnings and how we have imagined ourselves cradled in it's slender arc, leaning back and dreaming of the infinite beyond.
Please enjoy the dedication ceremony of Starstruck: http://towncenterofmililani.com/starstruck/
http://towncenterofmililani.com/starstruck/
She sits on a Hawaiian Star Compass made of Italian glass mosaic tile.