The Aqua Waikiki Wave Hotel is a newly renovated boutique hotel located one block from the beach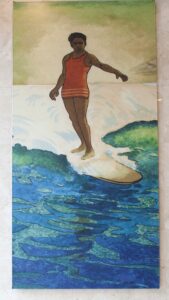 in the heart of Waikiki, Oahu. The hotel embraces the essence of Hawaii with unique art and aesthetics that celebrate Hawaii's vibrant surf culture. With contemporary Honolulu style, a warm and welcoming vibe, and affordable hotel specials, it is a unique escape in Waikiki.
Alexander & Associates manifested Aqua's vision and developed signage and two 10 ft. gallery wrapped giclees that greet guests as they enter the Aqua Waikiki Wave. This beautiful gallery sets the tone for this art themed hotel in the heart of Waikiki. Alexander & Associates selected giclees that grace every wall space in the hotel including the guest rooms, corridor, breakfast room and elevators, as well as original art in the lobby, all themed after artist Charles Bartlett (Hawaii 1860 – 1940).
Gallery