Bill Braden has been painting the wild and natural beauty of Hawai`i for more than 40 years.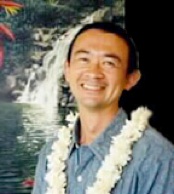 Educated first in the Islands, Bill graduated then went on to study at The Royal Academy of Art in London, The Rhode Island School of Design in Providence and in Rome, Italy. A specialty of this artist is large scale sculptures and murals.
Bill's most recent Monumental project is the Pacific Peace Project Mural for the main chapel at Schofield Barracks, Hawaii.    
In recent years, Bill is best known for having been commissioned to paint "The Best Beaches of Hawaii" for the City and County of Honolulu.  He was selected from over 200 applicants nationwide for this percent-for-art project.  Reproductions of this series are distributed through dozens of galleries and stores on each of the major Hawaiian Islands, as well as on the mainland USA.
Gallery
Helumoa Royal Coconut Palms, Oil on Canvas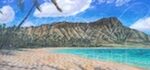 Pacific Peace Project for main chapel at Schofield Barracks, Hawaii
Original Oil on Canvas,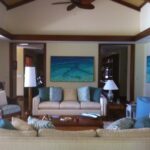 commissioned for Private Residence in Honolulu