"My paintings are the expression of my admiration for the beauty of our mother earth's
creations, and I want to convey the energy of peace and aloha which I feel from nature
through my art to the viewer"
Hilo has been painting since she was a child. Her mother's love of art helped influence her learning. Her skills in the fine arts were profoundly inspired by her early years of going to art museums and subsequent discussions with her mother. She was determined to be an artist since high school, and entered Junior College of Osaka University of Art in Japan. She graduated with the distinction of Best Art Student and the University purchased her artwork.
After graduation, she worked several years as an assistant painter for a muralist, and has
joined many public and commercial mural projects. She also helped to organize mural workshops for children. In 1996, she became part of the crew of the 50th Anniversary of Independence of Indonesia Commemoration Mural Project at the University of IKIP and STKW in Surabaya, East Jawa from Osaka prefecture government.
On breaks, she traveled extensively to Europe and Southeast Asia. She experienced different cultures, did a lot of sketches, and had several painting shows that were inspired by her travels. While she was working on large murals, she found her love to create large-scale paintings. She became an independent mural/scenic painter, and has done private and commercial mural/scenic projects for the last decade
She came to Hawaii in 1998, fell in love with Hawaii's colorful, beautiful nature and unique mixture of culture. She lives on the North Shore of Oahu, and works on various artwork media like airbrushing surfboards, murals for shop façades, and recently she has done a couple backdrops for Diamond Head Theatre productions.
Gallery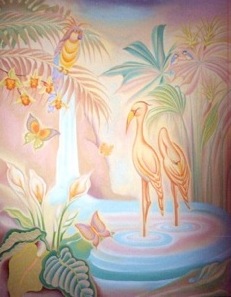 Paradise Scape
Hawaiian Light
[wpcol_4fifth id="" class="" style=""]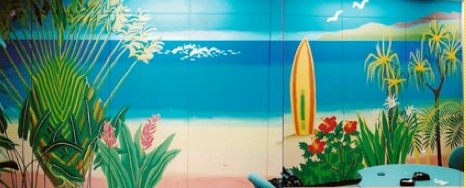 Travel Agency Mural, Honolulu[/wpcol_4fifth] [wpcol_4fifth id="" class="" style=""]

Travel Agency Mural 2[/wpcol_4fifth]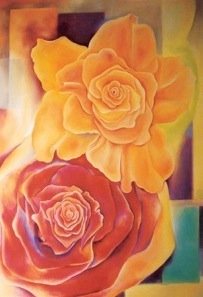 Roses