Imagine a beautiful creation of stained glass….  One that inspires you each time you see
the light streaming through it, with pools of color spilling across your floor….
Stained glass windows create a beauty of light spectrum that nothing else compares to.  Your beautiful piece of art….  will become a family treasure for generations to come….
For over thirty years, Judy Wisdom's heart has found it's expression in the creation of stained glass art for homes, workspaces and places of worship.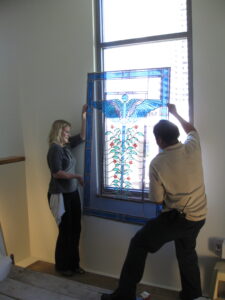 "All it takes is a great poem, beautiful song lyrics or simply an amazing story and I'm in the studio again – passionate to bring together colored glass and copper, giving them new form and purpose."
Judy Wisdom is an artist in the truest sense. "I am stirred by the exquisite beauty of nature itself, touched by each unique sunset in my home, here in Hawaii to design a masterpiece. Having participated in Renaissance Festivals as an award winning stained glass artist of 25 years, I was commissioned to create a 6 x 8 foot wedding chapel window for the Colorado Renaissance Festival."
At first a traditional Celtic cross was thought to be the appropriate design. Realizing that people of all faiths would be exchanging their vows there. I wanted all to feel welcome. So in the true spirit of Renaissance romance I suggested the theme of a trellis with grapes and roses and hanging in the center from ribbons – beautiful period musical instruments. At the peak of the window was the perfect space to place the sun and the moon joined together.
The ancient symbol for the masculine and the feminine.Offering Kaleidoscopes, castle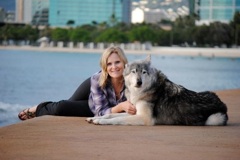 boxes, jeweled dragonflies and stained glass windows. A beautiful handmade book was kept on the counter in which people would write their dream of a window to be made and their contact information. It kept me busy through out the year and I was able to revisit the wonderful people I had met such as Kim and Roger Ward who commissioned me to create a 12' Victorian conservatory ceiling for the Estemere Estate in Palmer Lake Colorado.
My two daughters were afforded a life rich in love, laughter and the arts. With great freedom and friends. Bronwyn worked as a page for the Jousters and they loved her as if she were their little sister. Sobryan was the youngest paid actress in the shire as the beloved and mischievous fairy ʻSassafras' who only spoke with children. Their father was ʻGood King Henry' and I was the stained glass artist who was the mother of the king's children.
And now I have a new life as the gypsy artist who lives in Hulaville with her beautiful wolfka Shadow.
A new chapter begins….
Gallery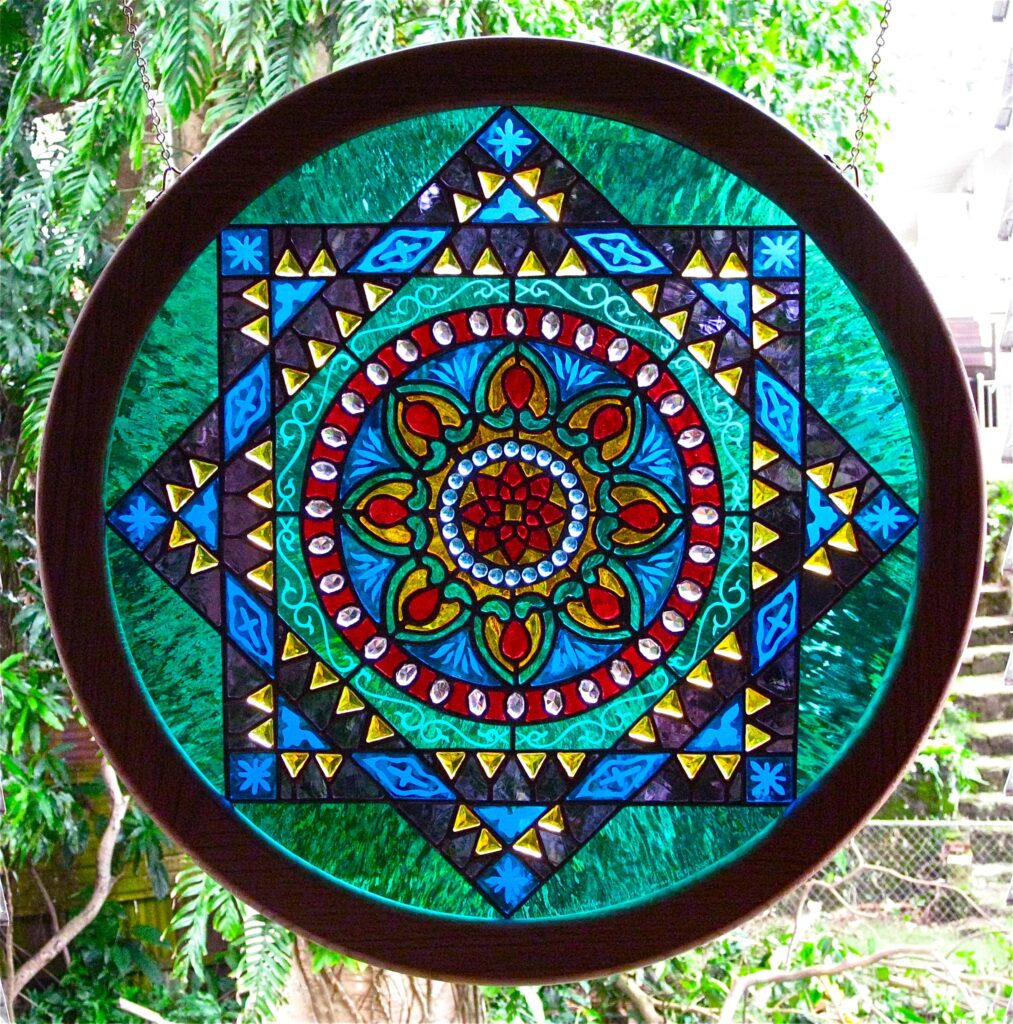 Marrakech
Lanikai Mermaid
Celtic Cross
Tropical Butterfly Transom
Shriners Hospital Window
Victorian Conservatory Ceiling