Originally from Ohio, Kim Duffet was born to an artist mother and a scientist father. These two inclinations have followed Kim Duffet his entire life and have colored all his explorations
into the creative process. His brother Marc, an accomplished painter, was also a great influence but Kim found his bent at age six when he began sculpting in wood. Working in three dimensions has been his path ever since.
Duffett went on to study sculpture and painting on the East Coast and first started drawing and sculpting the human figure at Barlow School of the Arts. He had his first contact with bronze casting while working in a small, private foundry in Ohio.
Soon after graduating, Kim found work on a horticulture plantation in Kenya, East Africa that gave him the opportunity to study with local African wood carvers. During the next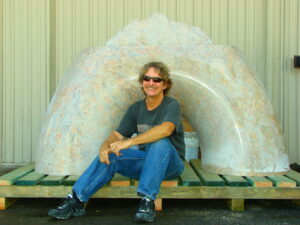 four years he traveled and studied in North Africa, Italy and throughout Europe. On his return to the U.S., Duffett lived, worked and sculpted in California and Washington State before moving to Hawai'i in 1979.
Inspired by the beauty of Hawai'i, and its ancient culture, Kim continued to work primarily in wood. A three-year sailing voyage in the South Pacific (1982-85), brought him in contact with carvers in Fiji, Vanuatu, The Solomon Islands, and Papua New Guinea. Once back in Hawai'i, he started sculpting again in bronze.
Duffett broadened his choice of media to include stone, illuminated cast resin and ceramics exhibiting in galleries, juried shows and getting commissions. His most monumental to date are the three, twice life size, bronze hula kahiko dancers fronting the Hilton's Kalia Tower in Waikiki. A series of limited edition miniatures of these in bronze will soon be available. Kim continues to work at his studio in Manoa Valley in Honolulu.
Gallery
Kaha Ka `Io Me Na Makani, "The Hawk Soars with the Winds" Hilton Hawaiian Village
Ma Ka Lihi
Punahou Courtyard
Courtyards at Punahou  13ft. High Entrance Fountain
Wahine
i
Aina, 14.5 ft. Fountain, granite, stone, fire & water. Commisioned by Hilton Grand Vacations for the Grand Waikikian, Waikiki Hawaii[/wpcol_3quarter]
See Kim's newest monumental bronze sculpture, Starstruck   
StarStruck, 17 ft. bronze and stainless steel sculpture for Mililani Town Center
Here is a video of the unveiling of StarStruck, May 15, 2018 ….
Statement
Living in these soulful islands of Hawaii, I feel a sense of the 'Aina at the core of my being and this is the source of my inspiration in sculpture. For me, sculpture is a way to express the many unspoken manifestations of the earth that words fail to capture.
Be it figurative or abstract, I strive to speak in a language of touch and sight that reaches the subconscious in ways words cannot. I believe that the level of my creative intent can imbue the work with spiritual energy, or "mana" as it is called in Hawaiian, and that this energy can directly effect the viewer.
For me it is essential that a story or a message be told, using symbolism, gesture, form, or whatever means necessary and yet still keep a sense of the undefined and mysterious, a feeling of discovery.