Steve Sundram is an internationally renowned artist. His paintings are among the collections of celebrities such as Kim Basinger, Whoopi Goldberg, Jack Klugman and Carlos Santana.
Born in Australia, Steve Sundram initially gained recognition internationally through the success of his environmental artork which has been licensed on numerous art and gift products throughout America, Europe, Australia, Russia, Japan and other countries around the world.  He is an accomplished artist in such diversified styles, that it would be easy to mistake his body of work to be the work or five or six separate artists.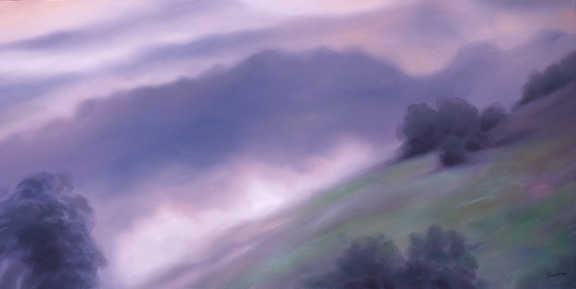 His new body of work entitled "Atmospheric Landscapes", is a unique series of paintings.  The success of these images is that they evoke a feeling of calm, spaciousness and at the same time mystery.  For that reason they appeal to a diverse audience, as the style enhances every environment.
His work has been featured in exhibitions at Tokyo's prestigious Seibu Gallery, Hawaii's celebrated "Maui Marine Art Expo", Metropolitan Art Galery – Maui, Wyland Galleries, The Rocks (Sydney, Australia) and the Island Heritage Corp – Hawaii.
Check out his amazing new video on 3D painting:
Gallery
Sunset Peace for the Hilton Waikoloa, Hawaii 2007